HMF Can-Am Outlander 800 2015 Full Exhaust Muffler + EFI + K&N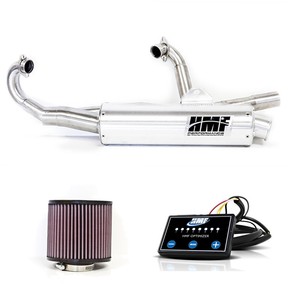 ---
FREE SHIPPING! - Get free ground shipping on all contiguous United States orders!
Make: Can-Am Model: Outlander 800R Submodel: Years: 2015 Series: Performance System: Full Shape: Round Mount: Side Color: Brushed Aluminum End Cap: Turn Down - Brushed Aluminum

HMF EFI CONTROLLER REQUIRED

Performance Series

The Performance Series uses a 2 1/8" non-restrictive core for maximum flow. Depending on the model, you can expect a 4-6 dB increase over stock. The exhaust shell is made of T6061 Aluminum that weighs substantially less than stock. USFS Approved: All HMF offroad exhausts come with a USFS approved spark arrester. Two Year Warranty: HMF Engineering Inc. warranties all exhaust systems for two years from the date of purchase for all manufacturing defects.

The HMF Optimizer is pre-loaded with baseline settings for your Can-Am Outlander 800R 2015 using a HMF exhaust. Plug it in and ride.

The HMF Optimizer is a piggy-back EFI controller because it does not replace the stock ECU, but rather monitors the signals to the injectors and makes fuel adjustments based on the mode settingsthat have been pre-loaded at HMF. The HMF Optimizer has a push button interface allowing access up to 3 different modes to allow for quick fine tuning by the end user without the need of a computer.

(Final tuning is always the responsibility of the end user)

Key Features:

Pre-loaded map developed by HMF specifically for quads that run a HMF exhaust. No laptop necessary/push button tuning on the fly. Uses load based technology which allows for tuning in every gear. Ability to add fuel without altering the stock fuel map. Easy to see LED lights to indicate operating zone. Push button interface to allow quick fine tuning. Easy installation. Boost Sensing fuel control

New K&N Air Filter for a Can-Am Outlander 800R 2015.

High Air Flow with Excellent Filtration. Designed to Increase Horsepower and Acceleration. Washable and Reusable. Will NOT Void Vehicle Warranty. K&N Million Mile Limited Warranty®. Economical, a K&N Air Filter Will Last the Life of Your Bike. Works with Original Equipment Manufacturer Vehicle Electronics. Easy High Performance Add-on.
Hardware may be different than pictured.
Free Shipping: Any order within the Contiguous United States ships FREE! Email Tracking: You will receive email update with a tracking number as soon as your product ships. International Orders: Shipping charges do not include duties and taxes upon arrival. Our Locations: All products ship from one of our many warehouses in the United States. Stock levels change daily.: Check to see what options are on the shelf and estimated delivery time. We carry an extensive stock of so many parts but with all of the different series/color/model combinations, we simply cannot stock every variation of every part. Please ask if you have time constraints. If we don't have the exact product you are looking for, we may have a suitable option on the shelf. Questions?: Contact RPO through or call/text us at 216 586 4776 Mon-Fri 9-5 EST. Please include model/year/color in email/text. Need it REALLY fast?: Various types of expedited shipping are always available.
We accept payments from Credit Card or Debit Card, Visa, Master Card, American Express, Discover, and PayPal.All orders delivered to Ohio are charged with an 8% Sales Tax.