JACQUELINE COCHRAN WOMAN AVIATOR 11x14 SILVER HALIDE PHOTO PRINT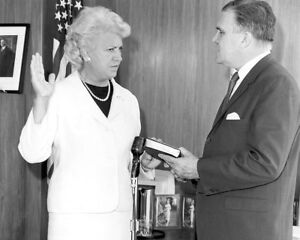 ---
Jacqueline Cochran Woman Aviator 11x14 Silver Halide Photo Print

Photographer/Credit: U.S. Air Force, Courtesy of NASA / RMP Archive Photo Image Date: 1961 Image ID: AF421

Photo of Jacqueline Cochran, the first woman aviator to break the sound barrier, being sworn in as a consultant by NASA Administrator James E. Webb in 1961.

Museum Grade Archival Real Silver Halide Light Exposed Print Professionally Restored Archive Image Borderless, Gloss Print Fits Standard 11x14 Size Frames and Mats Sealed In Protective Plastic With Backing Board

Shipping Rates and Transit Times
DestinationFirst PrintEach Additional PrintTransit Time
USA - Economy
$3.95
$0.50
3-7 Business Days
APO/FPO and US Territories - Economy
7-14 Business Days
Continental USA - Expedited
$14.95
3 Business Days
Continental USA - 2 Day
$24.95
2 Business Days
Continental USA - Overnight
$29.95
1 Business Day
Canada
$5.95
$1.00
4-14 Business Days
Mexico
$9.95
14-30 Business Days
All Other Countries
$11.95
4-30 Business Days
Orders placed by 8:00 am Eastern Time, Mon. - Fri., excluding holidays, SHIP SAME DAY.Combined Shipping Discounts applied in cart during checkout. Please add all items to cart, then checkout. Do not use Buy It Now individually for each item to avoid paying full shipping for each print.Please ignore 's optimistic estimated delivery dates. Our above listed transit times are more realistic.
If you're looking for the highest quality photo available of this image, then I'm confident that you've found it. We actually do things different here, mixing the best of today's print and restoration technologies with old fashioned hard work and artistry. People still make the artistic decisions, not computers. And we print real light exposed and chemical processed prints using Kodak Professional Endura archival photo paper, not just ink jet prints, mass produced posters or the pitiful photocopies that are sold by hundreds of online sellers. Since our start online in 2001, we've served more than 50,000 customers, and every one of them started by contemplating whether we were offering something special, something worthy of their hard earned dollars. We know that terms like "fine art," "archival," and "best" are thrown around very loosely in this business, with most of those prints being mass produced lower resolution poster prints, at best. Posters can be great, and we sell some elsewhere on this site, but what you are buying here is a REAL PHOTOGRAPH!We expertly retouch and restore old historic images to be as good or better looking than the originals. We start by finding the highest quality negative, print or digital file that is known to exist. Each photograph then gets individual attention from one of our print masters and is meticulously restored with special attention to color reproduction, contrast, exposure and dust and scratch removal. Each photograph is then printed on REAL chemically processed archival photo paper. The combination of expert artistry, today's professional lab print technology and only archival print materials, results in a museum quality fine art print that rivals, or in most cases exceeds, the beauty and quality of the original. At The McMahan Photo Archive, you are always buying the best!Each print is given a final inspection before leaving the studio. 11x14 and smaller prints are always shipped flat, sealed in archival plastic with a backing board to protect them till you are ready to display them. Every shipment is fully insured, so you will always get a pristine print. Most importantly, every order is backed by our 30 Day 100% GUARANTEE! In the unlikely event that your print is damaged in shipment, or if you don't like it for any reason, you are entitled to your choice of having us correct the problem, exchanging it, or returning it for a refund. Isn't that the way it should be? We really want to make you into one of our raving fans!Robert McMahanFounder, Photographer, Historic Photo Print Expert

We really do believe in 100% Satisfaction, GUARANTEED!

The McMahan Photo Art Gallery & Archive Your Historic Photo Print Experts! Visit our retail gallery in DUMBO, Brooklyn Copyright 2001-2018 The McMahan Photo Art Gallery and Archive All Rights Reserved